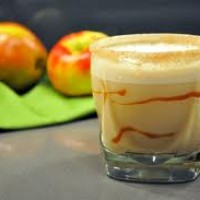 Herbalife Protein Shake Recipes – Toffee Apple and Cinnamon
Thus far, I have shared quite a few recipes and here is a new favourite Herbalife Protein Shake recipes.  This one is just……mmmmmmhhhhhh.  Toffee apple & cinnamon.… These three words conjure up images of nice things.
School fetes, the church basaar, the local market of cake stalls and home made jams…..Happy things and warm comfortable thoughts….. Sounds nice doesn't it? Well now it doesn't just have to sound great, it can taste great too.  I promise you, this recipe is a good one.
Herbalife recently launched the toffee apple and cinnamon shake.  Depending on how much cinnamon you like, you can fill your Herbalife protein shake recipe with the toffee and cinnamon shake or mix it with another flavour, whichever you prefer.  If you really, really like cinnamon, check out this link on cinnamon.
Toffee Apple and Cinnamon shake
This is one of our Herbalife protein shake recipes we use at home.  It is enough for 3-4 people. Just try it. It really is delicious.  I mean every letter of d-e-l-i-c-i-o-u-s.
Recipe:
1/3 cup raw oats
1/3 cup all bran (cereal, pure bran, flax seeds whatever you like)
1/2 cup of vanilla yoghurt
1 whole banana
1 cup hazelnut milk (I find this milk really compliments the toffee apple and cinnamon shake – but use any milk you like)
2 scoops toffee apple and cinnamon shake (If you really like cinnamon, add 4 scoops of toffee apple and cinnamon shake and leave the 2 scoops vanilla)
2 scoops of vanilla shake
Blend and voila…..
This is such a lovely shake. You can happily add this recipe to your collection of Herbalife protein shake recipes.  I know it sounds silly, but after I've eaten this shake, the smell of it still wafts past me while I'm reading or writing…..sounds like an addiction….. a good addiction. Enjoy! I promise, you will not be disappointed.  I've also made myself a bowl of warm oats, then added 2 scoops of the toffee apple and cinnamon shake into my porridge and mixed with milk to the consistency, I desire.  This shake is an absolute hit with us!  As a family, we nearly finished a whole container in just over a week!
Want to order your own Toffee Apple & Cinnamon shake?  Then follow these simple steps to enjoy you own:
Click on the following link https://uk.onlinecontract.myherbalife.com/ (Change the country of residence if necessary)
For "Sponsor's Herbalife ID Number" enter "46114499"
For "First 3 Letters of Sponsor's Last Name" enter "JUL"
For "Purchased an International Business Pack (IBP) from your Sponsor?" Select "No"
Click "Next" and follow the instructions to complete your Herbalife membership application.
Tags: cinnamon, healthy eating, herbalife shakes, Weight Loss