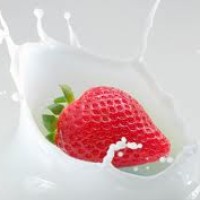 Milk or no milk? Should we use milk in our Herbalife protein shake recipes? If you have wondered about these questions, then this article is for you.
Herbalife Protein Shake recipes without dairy milk??
Do you have some or other intolerance to food?  Dairy intolerant?  Feeling unsure how to make your Herbalife protein shake recipes without dairy milk?
These days, so many people have an intolerance to food products.  One intolerance, that is quite common, is the intolerance to dairy milk.  Does this hamper you from making  delicious Herbalife protein shake recipes?  In our family, one of our children is intolerant to raw dairy milk and dairy based yoghurt and ice cream.  For some strange reason, cheese seems to be fine.
So why am I discussing this specific topic of an intolerance to dairy? Because many people are under the impression that when you talk about Herbalife protein shake recipes, they almost accept it should be with dairy milk. It doesn't have to be. You can mix your Herbalife shake with any suitable liquid – water, juice or milk.  Eat it dry if you want to….have you tried the chocolate?
How do you make your Herbalife protein shake recipes?
If you use milk, what kind of milk do you use?  Most of us know calcium is important for healthy teeth and bones.  Are you afraid you or your children might lose out on calcium if you don't use dairy milk?  We have growing children ourselves and we had to ask ourselves the same question.  As parents, we always want to make sure our children are getting the 'right stuff'.  The right amount of vitamins and minerals they need to grow up healthy.  Our first decision as a family, is to use Herbalife food as the primary basis for our nutrition. That is exactly what it is. Food, so finely balanced it feeds your cells.  So how do we get around the issue of not using dairy milk and still maintaining the calcium we need? We use soya milk for everything, including our Herbalife protein shake recipes.  You are probably thinking..that does not contain enough calcium….
Well, have your Herbalife protein shake recipes the way YOU like it!
My suggestion is that you make your Herbalife protein shake recipes with any milk you want. Why?  I did a quick survey in our local supermarket and this is what I found.  These findings might actually surprise you…..
Type of milk          Calcium/100ml           Fat/100ml
Skimmed dairy              129mg                   0,1g
Almond                          120mg                   1,1g
Rice                               120mg                   1,2g
Goats milk                     120mg                   1,6g
Semi skimmed dairy      120mg                   1,7g
Coconut                         120mg                   1,8g
Soya                              120mg                   1,8g
Whole milk dairy            120mg                   3,5g
Mmmm…..Interesting isn't it? If you want to check this for yourself, I promise you it will take about 5 minutes to scan the milk aisle.  So next time someone questions you about cutting out dairy milk from your diet, you will have some answers.  If you want to make some delicious creamy Herbalife protein shake recipes, without dairy milk, just do it!
Want more advice on Your Favourite Herbalife shake recipes Feel Free to ASK…………
About the Authors:
Eldred & Michelle are dedicated professionals in the dental health industry. They discovered the power of cellular nutrition when they joined Herbalife on the 9th of September 2000. They are a typical Herbalife family with a wealth of experience of using the Herbalife products daily and raising healthy Herbalife kids.
They recommend the amazing Herbalife products to everyone that is interested in living a healthier life and raising healthy kids. Becoming a Herbalife distributor in order to get the products at a discount and to help others live a healthier life was their first step. Now they are building a team of dedicated Herbalife distributors from all around the globe from the comfort of their home.
To join Eldred & Michelle's amazing Herbalife team, just follow these 5 simple steps:
Click on the following link https://uk.onlinecontract.myherbalife.com/ (Change the country of residence if necessary)
For "Sponsor's Herbalife ID Number" enter "46114499"
For "First 3 Letters of Sponsor's Last Name" enter "JUL"
For "Purchased an International Business Pack (IBP) from your Sponsor?" Select "No"
Click "Next" and follow the instructions to complete your Herbalife membership application.
~ Will Kilian

See also:
How to make hummus the quick and easy way
Tags: herbalife milk shakes, herbalife protein shake recipes, herbalife shake recipes, milk or no milk, protein shake recipes