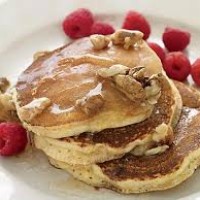 If you are looking for new and fresh ideas to boost your protein intake, or are simply looking to play around with Herbalife Shake Recipes, you have come to the right place. Megan's Protein Pancakes is just the thing for you.
Today I will be sharing my daughter's very own invention. She calls it her Herbalife Protein Pancakes. Let me tell you, I did the taste testing on more than one occasion and it is delicious!
Finding new and exciting ways to consume your Herbalife shakes is great, as it brings variety to your diet. We happily share.
Since I saw Dr David Katzin in 1997, the erstwhile head of the Herbalife Scientific and Nutritional Advisory Board, explain live on stage what power lies in the Herbalife shakes, I just realized one thing: It does not matter how you consume your Herbalife shakes; just find a way to get it in your body!
As we know, Nutrition Science is young. The power of good quality protein to boost your lean body muscle mass, cannot be over stated. Your lean muscle mass is your body's fat burning machine. It needs to be in good nick. It's no good to just cut your calories to lose weight without ensuring you feed your body cells what they need on a daily basis. And one thing they need are the necessary amino acids to build healthy muscle mass.
Enough about that. Here is my daughter's Herbalife Protein Pancake recipe. We'll call it Megan's Protein Pancakes. We have not calculated the calorie intake, but not to worry. As a healthy protein treat, it's worth it!
Megan's Protein Pancakes – Herbalife Shake Recipes
This recipe provides for 10 side plate size pancakes of the deliciously healthy Megan's Protein Pancakes.
Ingredients for Megan's Protein Pancakes:
1 x over ripe banana
2 x egg whites
1/4 cup peanut butter
3 table spoons Herbalife Vanilla shake
1/4 cup plain flour
1 teaspoon cocoa powder
1/2 cup of skimmed milk
Mixing of ingredients for Megan's Protein Pancakes:
Simply blend all the ingredients together until a nice smooth consistency.
Baking of Megan's Protein Pancakes
Heat up your pan; preferably a non-stick pan on HIGH heat. No need for any oil. If you are using a pan that is not a non-stick pan, cover plan lightly with olive oil. The olive oil spray works best. Pour side plate size Pancake Mix in the pan. Flip over once only (after about 10-15 seconds) until "it looks right".
Megan's Protein Pancakes – Serving suggestion
Call your family and friends over and serve nice hot protein pancakes with a little bit of Greek Yogurt and honey. Enjoy responsibly. 🙂
Feel free to experiment with this recipe. We would also love to hear your feedback. If you loved it or hated it – come back and leave your comments below. If you added something or improved on this recipe, also please share below in the comments section. My daughter was very apprehensive about sharing her recipe. It would mean the world if you could pass on your positive comments and suggestions.
Enjoy!
p.s. It's a good idea to bookmark this page in your Internet Browser. That way you can come back to Megan's Protein Pancakes recipe any time to either leave your comments or suggestions, or to pass this recipe on to your friends and family.
About the authors:
My wife and I are independent Herbalife distributors since March 1996. We both got great results on the products.
She lost 10kg within the first few months and I lost 36kg in 6 months. We both maintain our new healthy weight ever since. (Compulsory legal disclaimer: These results are not typical. Individual results will vary.)
Although we are both professionals – she being a medical doctor and me being a lawyer, we recommend the Herbalife products to everyone who wants to improve their health and well-being. We are a typical Herbalife family. Our kids love the products as much as we do.
The Herbalife business opportunity is arguably one of the best in the network marketing industry, paying back 73% of the gross turnover to its distributors via retail profits, wholesale profits, royalties and bonuses. The combination of these amazing products with this solid compensation plan, makes Herbalife in our eyes the best network marketing opportunity out there.
We have a fantastic team of independent Herbalife distributors all around the world. We love and appreciate each one of them. Through them we are able to indirectly enrich the lives of thousands of people around the world with the Herbalife magic.
If you are not yet a Herbalife distributor, but are interested to know more, you can click on the Apply Online (smiling lady picture) on the right. It will take you to a new page that provide you with more information. We will make sure that you are taken care off either by ourselves or one of our team members. No matter what, you will always have our support.

Willem & Suné Kilian
Global Expansion Team
Herbalife ID: 46-024370
Email: wjkilian@gmail.com
Based in Australia.
Herbalife Membership
Becoming an Independent Herbalife Member
1. Understanding what Herbalife is all about
2. How to register as a Herbalife member

If you have your Sponsor's surname and Herbalife ID number, click
here to join online now: JoinHerbalifeNow

Your sponsor: Willem Kilian
Herbalife ID: 46024370
3. How to create your username and password to log into your own secure
Herbalife back office at www.myherbalife.com

4. How to order your first products online
My Story My Strategy
PASSIVE INCOME PLAN
Not a Herbalife Member yet? Click HERE and
NOW.
Welcome to the Team!
Once you are Registered as Herbalife Member in our Team
YOUR 90 DAY RUN TO FREEDOM kicks off!
Let's GO!!!

It's time for you to take action now! Only you can change your destiny.
Decide. Act. Act Consistently. Act Persistently.
Frequently asked questions for people who consider to join Herbalife:
Q: How do I join Herbalife if my country of residence is not on the list of countries that offer online Herbalife applications?
Write the name and Herbalife ID number of your sponsor on a piece of paper and go to your local Herbalife distribution center. Willem Kilian 46-024370
Tell them that your sponsor has sent you to come and buy your Herbalife Member Pack and get registered.
Provide them with the name and Herbalife ID number of your sponsor.
Pay for your Herbalife Member Pack.
Click here for a complete contact list for the Herbalife Distribution Centers around the world to find the one nearest to you.
Q: What are the benefits of becoming an Independent Herbalife Member?
Be the Healthiest YOU that You Can Be!
Use exceptional cellular nutritional products that are safe and effective, produces amazing results and are in high demand.
Use the Herbalife products at a discount – Discounts: 25%, 35%, 42% & 50%
You are in good hands. Herbalife is an established, billion dollar a year, public listed (NASDAQ) company, founded in 1980.
You are remunerated extremely well for your efforts. Herbalife's compensation plan pays its distributors 73% of the gross turnover.
Earn Retail Profit.
Earn Wholesale Profit.
Earn Royalty Commissions.
Earn Production Bonusses.
Earn Exotic Vacations.
Share in the 1% Yearly Turnover Bonus Payouts.
Your are independent, but not on your own – Great Leadership Online & Offline.
Learn while you earn. Excellent training programs – Online & Offline.
Be a part of a great community.
Join Herbalife in our team for a unique online business building strategy.
Q: What are Herbalife Volume Points?

Each Herbalife product is assigned a Volume Point Value.
For example, the 560g Herbalife Shake, or Formula 1 Nutritional Shake Mix, has a Volume Point Value of 23.95 Volume Points in all the Herbalife countries around the world.
Therefore, no matter where in the Herbalife world you are, or in what currency you pay for your Herbalife products, the Volume Point Value of your order will be the same everywhere.
Q: How do I make money with Herbalife in 90 days or less?
You qualify to higher levels of discount, based on the volume of products you and your team purchase from Herbalife in a calendar month. Your starting discount is 25%.
Herbalife Member at 25%


This is a lifetime discount, as long as you keep your annual nominal processing fee current.

Senior Consultant at 35%


This is a lifetime discount, as long as you keep your annual nominal processing fee current.

Qualified Producer at 42%


This is a lifetime discount, as long as you re-qualify to this position yearly before 31 January and as long as you keep your annual nominal processing fee current.

Supervisor at 50%


This is a lifetime discount, as long as you re-qualify to this position yearly before 31 January and as long as you keep your annual nomoinal processing fee current.
Q: How do I qualify for each discount level?
Herbalife Member at 25% discount


Purchase an Herbalife Member Pack (HMP) and get registered as an Independent Herbalife Member.

Senior Consultant at 35% discount
Become a Senior Consultant by achieving 500 Volume Points or more in a month.

This may include Downline Volume.

Once you've qualified as Senior Consultant, you will never go back to the 25% discount as long as you keep your Annual Processing Fee current. [This is an amazing starting option! If you are serious about changing your health and nutritional habits around, even if you just use Herbalife to ensure that you and your family gets the best breakfast money can buy, then this is the option for you. You buy 500vp of products once, and then thereafter you buy as and when needed…no matter how small your subsequent order is, it will always be at your new minimum of 35%.]
Qualified Producer at 42% discount


Become a Qualified Producer by achieving 2,500 Volume Points in one to three consecutive months. You may use up to 1,000 Downline Volume Points toward this qualification.

Supervisor at 50% discount


Become a Supervisor. There are 3 different ways by which you can qualify to the Supervisor position:

Method #1: Achieve 4,000 volume points in one month, of which 1,000 Volume Points must be unencumbered, i.e. not being used by anyone else in your downline for Supervisor qualification purposes.
Method #2: Accumulate 4,000 Volume Points over two consecutive months, with at least 1,000 unencumbered volume.
Method #3: Accumulate 4,000 Volume Points in three to twelve months, with at least 2,000 PPV.
Q: Where can I get training as a new Herbalife member?

From your own online Herbalife office at www.myherbalife.com
From your sponsor and your upline. (Your sponsor, Willem Kilian, has an online independent Herbalife training website at www.ezhealthbiz.com)
From the materials supplied to you in your Herbalife Member Pack
From local, national and international Herbalife training events
From online independent Herbalife member forums
Q: Do I have to order Herbalife products every month?

No.
When you read through the Herbalife Gold Starndard Guarantees when you join Herbalife, you will see that there are no minimum purchase requirements.
You only order Herbalife products as and when you want to.
Q: Do I have to sponsor other Herbalife members?

No.
Sponsoring new Herbalife members is not a requirement.
About 90% of people who join Herbalife as members, do so purely to buy their own products at a discount.
Q: What are the Gold Standard Guarantees?

Herbalife provides 6 Gold Standard Guarantees to all Herbalife members:
There are no minimum purchases required and start-up costs are low.
There is a fully refundable, 90-day money-back guarantee for the cost of the Herbalife Member Pack, if Membership is canceled for any reason.
There is a 100% refund guarantee on product, plus shipping costs for the return of all products purchased in the prior 12 months if Membership is canceled for any reason.
There is no requirement to puchase any sales and business tools to start up or succeed in your Herbalife Membership.
We clearly define the benefit of each product and appropriate method of use directly on the product label – we want to make absolutely sure that the right products are taken the right way to achieve realistic results. We provide reaslistic expectations of the business opportunity and the effort required to succeed at all levels.
We provide clear, accurate, and timely disclosures to prospective Members regarding potential income.
Q: Can I rejoin Herbalife as a member if I previously joined?

Absolutely!
If you have been a Herbalife distributor in the past, you can rejoin Herbalife now if you have been inactive for at least 12 months.
If you have formally resigned from Herbalife, it is 12 months from the date of resignation.
If you have not formally resigned, but just failed to pay your yearly distributor fees, the 12 months start running from the date your yearly distributor fees were due.
Q: What does a Herbalife Member Pack cost?

Less than $100 US.
You pay for it in the currency of your country of residence.
Q: What do the Herbalife products do?

The Herbalife nutritional supplements provide your body cells (cellular nutrition) with all the nutrients it needs, in perfect balance, on a daily basis and in a very low calorie form.
It allows your body to perform at optimum levels.
It's the most nutritious breakfast (meal) that you can feed your family.
It allows you to control your weight and reshape your body.
Lose fat.
Gain muscle.
Gain energy and vitality.
Q: What Herbalife products should I use?

At least the Formula 1 Nutritional Shake Mix and the Formula 2 Multivitamin for good health and optimum nutrition.
Add products tailored to your weight management goals.
All the product information you require can be found in your myherbalife.com website. Just log in and click on Product Catalog.
Q: Who can use Herbalife?

Everybody.
Children, Adults, Senior Citizens, Sportsmen, Professional Athletes.
The Herbalife nutritional supplements are food – not medicine. If you can eat, you can use the Herbalife products.
If you suffer from certain medical conditions, it is always advisable to consult your doctor before you change your diet.
Always read the product labels.
Q: What is Herbalife's Mission?
To help people all around the world to control their weight in a safe, healthy and effective way.
To provide the best nutritional supplements to people from all walks of life so that they can get the most from their days.
To get the Herbalife products into every home in every country around the world.
To take the Herbalife products to all people all over the world, customer by customer, member by member, city by city, country by country.
Tags: herbalife protein shake recipes, herbalife shake recipes, megan's protein pancake recipe, megan's protein pancakes, protein pancakes