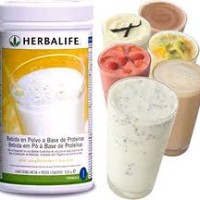 If someone say they don't like the taste of the Herbalife shake, I just laugh. Why? Because there are literally millions of Herbalife protein shake recipes out there. The key is to make your Herbalife shake in such a way that YOU like it. And you will find that you will want to mix it up. You don't want to just make your same old boring shake everyday, you can spruce it up.
Herbalife protein shake recipes – Make your own
If you cannot find a shake recipe that you like in the protein shake recipes to your avail, make your own! That is the beauty of using the Herbalife shake powder. It is so awesome, that all you have to do is find a way to consume it. Make it delicious. Play around with it.
I have been using the Herbalife shakes since March 1996, every single day. Today, it is even better than then. You never get tired of the Herbalife shake.
Apart from the different flavors of shakes you get, there are a legio of different recipes.
Herbalife protein shake recipes – Feel the Buzz Shake
There are plenty of interesting Herbalife protein shake recipes arround, but this one recently caught my eye. I found it in the January 2013, Vol. 18 Herbalife-Hub Newsletter for Australia & New Zealand. It is called the "Feel the Buzz Shake". Here goes:
Ingredients:
1 serve (28g) French Vanilla Formula 1 Nutritional Shake Mix
1 Scoop Personalized Protein Powder
1 handful of frozen raspberries
1 banana
1 teaspoon of bee pollen
300ml of almond milk
Ice as desired
Method
Blend all ingredients together until the ice is crushed. Serve in a tall glass.
Nutritional content:
Calories 337
Protein: 26.5g
Fat: 1.9g
Carbohydrates: 52.1g
Note: The nutritional values are approximates only. Values are based on information obtained from CaloriKing database.
Bee pollen has health benefits that I was completely unaware of, until I got this shake recipe.
If you are using Herbalife protein shakes and you have other protein shake recipes that you found delicious, irresistible and downright yummy, please feel free to comment on this article and share your recipe here. We will experiment with it, make it and taste it. Who knows, we might even like it so much that we will want to write an article about it!
Why are we using Herbalife shakes? It is the perfect supplement. Why is it perfect? It focusses on cellular nutrition: providing the body cells with all the nutrition they need on a daily basis and in perfect balance.
The proof is in the RESULTS. You can use the products just to be healthy, or to lose weight and even to gain weight. It is proper nutrition and is safe for everyone.
Click HERE to see more of our results on the products. Remember to add your recipe in the comments section to our Herbalife protein shake recipes.
Tags: best herbalife shake recipes, herbalife shake recipes, herbalife shakes, protein shake recipes