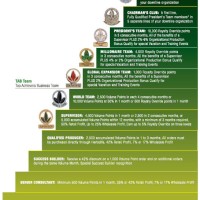 Do you want to be a Herbalife Member or a Herbalife Distributor?
Recently Herbalife International took a decision to create clarity to distributors, customers, employees, investors and the public in general. When are you a distributor? What does it entail? Do you have to distribute? If not, why call me a distributor?
Hence new terminology to fit in with the Herbalife Marketing Plan, the Herbalife Gold Standard Guarantees and the future of the company were created. In essence, all Herbalife distributors are Herbalife members, but not all Herbalife members are distributors.
Here is how it work:
In the past, the distinction was only between Herbalife customers and Herbalife distributors.
The reality however is that a lot of Herbalife distributors, only became distributors because they wanted to get the products at a discount for themselves. Because there were no obligations on the distributor to sell any products or do any business, these distributors were free to order products as and when they wanted for personal consumption at the discount they chose.
Herbalife recognises that these Herbalife users makes up a huge part of their market. In essence they are not distributors, they are merely wholesale customers. And here at Herbalife, we love our wholesale customers. They are loyal to the company, use our products regularly and spread the word of good nutrition on casual basis.
From now on, there are going to be 3 distinguishing groups:
Herbalife Customers
Herbalife customers are people who buy the Herbalife products at full retail from other Herbalife members and distributors.
Herbalife members
Each person that enters into a written agreement with Herbalife (formerly know as the Distributor Agreement), will now be known as a Herbalife Member. This written agreement also becomes known as the Herbalife Member Application and Agreement.
Each Herbalife member will have the exact same rights as the previously known "Herbalife distributor", and that is to:
Buy the products at a discount from Herbalife
Sell the products to Herbalife customers to make a profit
Recruit / sponsor new Herbalife members
The term "Herbalife Member" refers to all people who entered into a written Herbalife Member Agreement with Herbalife and who are below the Supervisor level.
To backtrack:
When you become a Herbalife Member, your minimun product discount is 25%.
Like any other good wholesale business: the more you buy, the higher your discount. The next level discount is 35%. Then 42% and lastly, 50%. Once you reach the 50% discount level in Herbalife, you are called a Supervisor. The 35% discount position is known as "Senior Consultant" and the 42% discount as Qualified Producer.
For more about these discount levels and how to qualify to each of them, click here: Herbalife Discounts
Therefore, once you reach the Supervisor level and above, you will in generic terms be referred to as a Herbalife distributor. Whilst you are on any of the levels below that, i.e. 25%, 35% or 42%, the generic term for you would be a Herbalife Member.
Everybody therefore starts as a Herbalife Member. Whether you then advance to become a Herbalife distributor, is completely up to you. You decide.
To become a Herbalife Member today, right from the comfort of your own home, just click the link below. It will take you to a safe and secure website where you can fill out your Herbalife Membership Form online. I will be your sponsor. You will need my Herbalife ID Number and the first 3 digits of my surname. Here goes:
Herbalife ID Number: 46024370
First 3 letters of my surname: KIL
Once you filled out your form, I will be in contact with you. Whether you only want to be a Herbalife Member, or whether you'd like to become a Herbalife Distributor as well, does not matter. I am here to assist you.

Tags: become a herbalife distributor, become a herbalife member, herbalife distributor, Herbalife member, herbalife members herbalife distributors, join herbalife, join herbalife now