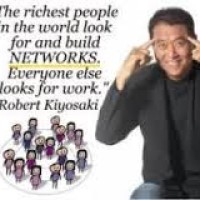 How do you choose a MLM company? What do you have to look for?

Here are a few key factors that separates the exceptional MLM companies from the rest:
A company with a track record of at least 6-10 years.
A company with a multilevel compensation system. (Compared to a uni-level or binary system.)
A company with consumable products that are in universal demand.
A company that backs up its products and business opportunity with iron clad guarantees.
A company that provides top class training and support.
A company where you can start at the bottom and go to the top – even part-time!
Unlike you perhaps, I did not choose a MLM company.  A MLM company chose me!
"As a customer of the company I experienced the most incredible results. People who knew me could ne believe the results! Before I knew it, I was in business."
Then, when the marketing plan (compensation system) was explained to me for the first time, I could not sleep!!! I never knew about MLM or Network Marketing. I thought I knew, but like so many other people in life never bothered to do my own due diligence and find the facts for myself. Until I got such amazing results on the company's products that I could not ignore the facts much longer.
This is what happened to me on the products…. within only 6 months!
I lost 36kg

(Disclaimer: These results are not typical. Individual results will vary.)
HERBALIFE changed my life!
I never want to be without these amazing nutritional supplements ever!
If you haven't tried it yet, you seriously don't know what you are missing.
So why should you consider joining Herbalife? Have a look at this:
World-class Company that Supports Your Business
Herbalife operates in more than 90 countries around the world with net sales of $4.8 billion in 2013. Our commitment to helping people achieve good nutrition and a healthy, active life directly supports the goals of our Independent Herbalife Members to grow their business.
Transparent Distribution Model
Herbalife is a member of the direct-selling associations around the world. Compensation to Independent Herbalife Members is based on product sales, and building an Herbalife business takes skill, dedication, time and hard work.
Competitive Compensation Plan
Members can earn retail and wholesale profits, plus income through Royalty Overrides and bonuses. Repeat orders from satisfied customers can lead to sustained growth of your Herbalife business.
Training Programs to Help You Start and Grow Your Own Business
A number of online marketing and sales tools and training events are available to support your business close to home and around the world. Clear, easy-to-replicate business methods continue to be refined and improved to meet evolving customer demands.
Products Based on Proven Nutrition Science
Under the guidance of our Scientific Leadership, we are committed to nutrition research and development, a rigorous quality assurance program and control of product integrity from Seed to Feed.
High-Profile Athletic Partnerships
Our brand visibility is significantly enhanced through over 250 sponsorships of sporting events, teams and athletes around the world, including world-renowned soccer star Cristiano Ronaldo; MLS Champions, LA Galaxy; U.S. triathlete Heather Jackson; Colombian golfer Paola Moreno and Indian cricket star, Virat Kohli; among others.
Commitment to Social Responsibility
The Herbalife Family Foundation and its Casa Herbalife Program provide funding to improve the nutrition of children in need in more than 100 Casa Herbalife programs around the world. HFF also supports disaster relief efforts.
Why Herbalife? Because our products and business opportunity can help you achieve nutritional and personal success.
Income applicable to the individuals (or examples) depicted and not average. For average financial performance data, see the Statement of Average Gross Compensation paid by Herbalife at Herbalife.com and MyHerbalife.com.
This is what excites me about the company:
The company was founded on 1 February 1980 – a success track record of almost 35 years!
The marketing plan is very generous. It is the most generous compensation plan of all the top (reputable) MLM companies.
The company's consumable products are to die for – once you experience the power of cellular nutrition in your body, you will never want to be without them! It's the best "food" for my body that my money can buy.
The leadership is out of this world.
The training, both online and offline is exceptional.
"It's never too late to get started on the Herbalife products. My motto is this: Why buy retail if you can buy wholesale? When you join Herbalife as a member, your minimum wholesale discount is a massive 25%!"
Instructions to Join Herbalife Online
You can Join Herbalife in a few minutes with 5 easy steps, sign-up using the online application:
Click on the following link https://us.onlinecontract.myherbalife.com
Choose your "Country of Residence"
For "Sponsor's Herbalife ID Number" enter "46024370"
For "First 3 Letters of Sponsor's Last Name" enter "KIL"
For "Purchased an International Business Pack (IBP) from your Sponsor?" Select "No"
Click "Next" and follow the instructions to complete your Herbalife membership application.
You will have access to place your discounted orders directly from Herbalife within minutes and receive the International Business Pack (IBP) which includes detailed instructions on being a distributor along with some samples. Your starting discount is 25%!
Tags: herbalife marketing plan, join herbalife, join herbalife online, joining herbalife, why herbalife