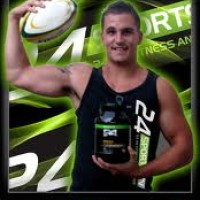 Herbalife24 Sports Range – Why 24? Join The Challenge
The Herbalife24 Sports products were introduced by Herbalife for the 24 hour athlete. The products have been formulated to assist your performance over 24 hours, with specific products being used at different times during your workout or training.  Also the Herbalife24 fit DVD series is a 24 week long programme.
For star athletes, the safety of their sports nutrition, is of paramount importance.  Have a look at the picture below to see the symbol that appears on the Herbalife24 products. 'Prohibited Substance Tested'.  That's  quite reassuring.  If it's good enough for star athletes, and you can find many on the internet, then surely its good enough for us who are starting out.
It appears, just like the general nutritional range of Herbalife, that different countries have different products available in their Herbalife24 range for their athletes, yet the common denominator is that you can use it with confidence.
So how does the Herbalife24 Sports fit in with the Herbalife24 fit DVD series? The Herbalife24 fit DVD series actually tells you which Herbalife24 Sports products to use and when. Nice isn't it? Is it absolutely imperative that you use the Herbalife24 products with the Herbalife24 fit DVD series? Probably if you want to tick as many boxes as possible.
But if you only have the normal nutritional range? Then use that! We mentioned before – start where you are. That's your point A, your start….. It's yours and your unique starting point.  Just do the best you can.  You are only in competition with yourself. It your challenge.  You know yourself the best.
Remember to get advice from your health care professional before embarking on a new health or training journey.  You would like to get the best support you can find.
So if you would like to join us, then happily follow these steps below and we will meet you on the other side:-)
Just follow these 5 simple steps to get connected via Herbalife.
Click on the following link https://uk.onlinecontract.myherbalife.com/ (Change the country of residence if necessary)
For "Sponsor's Herbalife ID Number" enter "46114499"
For "First 3 Letters of Sponsor's Last Name" enter "JUL"
For "Purchased an International Business Pack (IBP) from your Sponsor?" Select "No"
Click "Next" and follow the instructions to complete your Herbalife membership application.
If you have questions then please post it. You might be thinking of something we are not.
Tags: h24 sports, Herbalife 24, herbalife sports nutritiotion, herbalife24 sports, sports nutrition