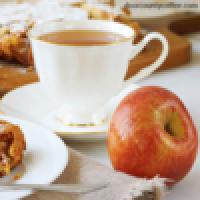 This apple spiced Herbalife tea recipe is absolutely fantastic! If you are an avid Herbalife user, you would know that the Instant Herbalife Beverage, also known as the Herbalife tea or thermojetics tea, is one of Herbalife's best selling products, and for a very good reason. In short, it gives you energy and burns body fat.
Combine with the Herbalife tea the amazing new Herbalife apple flavoured Active Fibre Complex, and you have the makings of a superbly healthy warm beverage.
This warm apple spiced Herbalife tea tastes refreshing and can be enjoyed instead of normal coffee and tea.
How to make the Apple Spiced Herbalife tea (video clip)
This short video clip shows you exactly how to prepare the apple spiced Herbalife tea:
Ingredients for the Apple Spiced Herbalife Tea
A cup of hot water
A scoop of Active Fiber Complex Apple
Half a teaspoon of Herbal Tea Concentrate Cinnamon (also know as Herbalife tea, Instant Herbal Beverage or thermojetics tea)
A scoop of Simply Probiotic
Stir well.
Improvised recipe for Apple Spiced Herbalife tea
Now as you know, the Cinnamon flavoured Herbalife tea and the Simply Probiotic is not available in all countries. If you live in one of those, no problem. I do too. I just use the original flavoured thermo and add a pinch of ground cinnamon powder, and viola! The cinnamon flavour in the apple spiced Herbalife tea is really great. I love it! I hope you do too.
If you are not a cinnamon fan, no problem. Just use the regular Herbalife tea in stead.
One of my favourite hot Herbalife tea recipes is simply hot water, thermo tea, and mandarin flavoured aloe. Add to this a scoop of the apple fibre complex, and you have a similar great hot beverage.
Where to buy the Herbalife products to make an Apple Spiced Herbalife tea?
You can buy these products either from a registered Herbalife distributor or directly from the Herbalife warehouse in your country. The benefit of the last option is that you cut out all middle-men and you immediately buy at a minimum discount of 25%.
[Beware of auction sites like eBay and Amazon. Registered Herbalife distributors are prohibited from selling Herbalife products on these sites. This means that people selling on these sites, are either selling fake products or products that might have expired. Even if they sell the real deal, they still do so unethically and will in all probability be terminated by Herbalife. Their customers will unfortunately also not enjoy the amazing Herbalife Gold Standard Guarantees.]
To learn more about how you can legally and ethically purchase Herbalife products at a discount by becoming a Herbalife wholesale consumer, or distributor, click here:
Please feel free to leave your comments below and share your favourite Herbalife tea recipe with us.
Tags: apple spiced herbal tea, apple spiced herbalife tea, apple spiced tea, apple tea recipe, herbal tea, herbalife tea