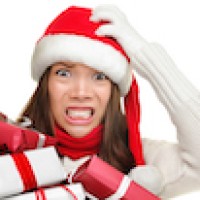 3 Tips to relieve holiday stress
The holiday season is upon us yet again and holiday stress will be too. We all know that holiday time is supposed to be fun, relaxing and blissful. The reality however, is that holiday stress always seems to creep in.
The question is, "how do you relieve your holiday stress?"
There are a lot of factors that causes holiday stress. Here are a few:
People are thrown out of their normal routine, and exercising is the last thing on their minds (exercise reduce stress).
The Christmas rush is real; and it can be extremely stressful in the shopping centres during this time.
Money might be tight, and Christmas spending is hard to control.
Extended family visits tend to cause extra friction.
Over-eating, lack of exercise, and eating foods that you normally don't, causes stress in the body.
So, how do you beat the holiday stress this time around, so that you can stay on top and enter the new year with vigour?
Fitness Director, Samantha Clayton, shared these 3 easy Tips to De-stress the Holidays. But in stead of me rehashing what she said, here she is:
Thanks Samantha, these are truly easy to do activities that will most definitely help to relieve holiday stress. I don't know about you, but I sure am going to try them out!
If you are looking to earn some extra income, feel free to browse around on our www.ezhealthbiz.com website. Herbalife offers a wonderful business opportunity, especially for people who are fitness and health conscious.
The company has a proven track record since 1980 and is a giant in the network marking, direct sales and fitness industries. The products are outstanding quality, are in high demand because of the results our consumers get, and the marketing plan offers a lucrative opportunity for everyone who is willing to work.
But for now, enjoy your holidays and be sure to beat the holiday stress with Samantha's 3 tips to manage your holiday stress.
Tags: avoid holiday stress, beat holiday stress, de-stress, holiday stress, relieve holiday stress